Welcome back for Emma's Bridal Boutique's next installment on everything you need to find the perfect prom dress.
When it comes to the most important dress of your young life, there are a few things you can do to make your search fun and stress-free!
In the last post, we talked about the right dress for everyBODY.  Today, we're going to add some whimsey and have a little more fun along the way. By the end of this, you'll feel more confident when shopping for your prom dress, with insightful answers to these very important questions.
So…let's get started!
Close your eyes and picture yourself at your prom right now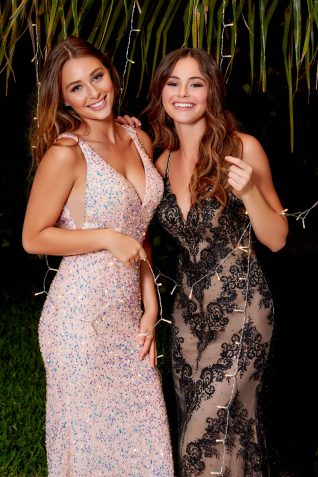 What do you see?
A long, formal gown – like on a red carpet?
Something a little more playful?
Or…
Something simple and understated?
When you're looking for the perfect prom dress, it's important to go into your shopping experience by capturing that vision in your head so that you've already pared down the list in your mind.
What will your hair look like on prom night?
Updo?
Long & flowing?
Short & playful?
Curly or Straight?
Extensions?
Any extra Colour?
With so many options these days, it's really important to make sure your hairstyle compliments your prom dress and vice versa.  Researching early helps you to narrow down and land on just the right style so that you've decided on that perfect coif in your mind when you search for your stunning prom dress.
Tip: We recommend visiting your favorite salon well in advance to experiment and nail that look.  Plus, it's a great selfie, Instagram moment!
Do you have a particular colour in mind for your prom dress?
Light and bright?
Dark and moody?
Wild and playful?
Simple and monochromatic?
Will you be matching anyone else?
Okay, you may have a favourite colour, but that may or may not play into the colour you choose in the end.  It all comes down to some critical criteria; do you have friends or an escort that you are trying to coordinate with?
Tip:  Start early to allow enough time to order if necessary. You'll need this buffer to pull your look off flawlessly on prom night.
What fabric would you like for your prom dress?
Soft & airy?
Bold & strong?
Shiny & eye-catching?
Easy & effortless?
So here's the deal, are you looking to stand out and make a statement?  If so, what kind of statement?  The fabric you choose can set the stage for your prom night experience.  A fabric that makes you feel like royalty is very different from one that provides a quite yet beautiful silhouette.
Tip: Knowing the type of fabric you're envisioning for your prom dress will make your search much easier and more fruitful.
What experience are you looking for on prom night?
Dance till you drop?
Amazing & flawless?
Prom King/Queen?
Casual & fun?
It's pretty simple, if you feel like you're going to be dancing all night, endlessly celebrating with friends, you'll probably choose a very different dress than you would if you're quietly enjoying every special moment from your own vantage point.  So, decide whether you want to party, party, party or take in all the beauty with a quiet sense of calm.
Tip: Choosing the right mood for your prom dress will set the stage for an amazing prom night!