It's just around the corner, the one night you've pictured for years…all your friends, in one room, ready to celebrate the beginning to an amazing end…PROM NIGHT!  And now, the search for that perfect dress begins.  Time to find the best design that'll make you shine on the outside just as much as you do on the inside.
Welcome to Emma's Bridal Boutique's Prom Dress Guide.  Over the next 3 blogs, we'll reveal everything you need to find that perfect dress.  So be sure to stay connected to us and you won't miss a single detail on your way to prom dress heaven.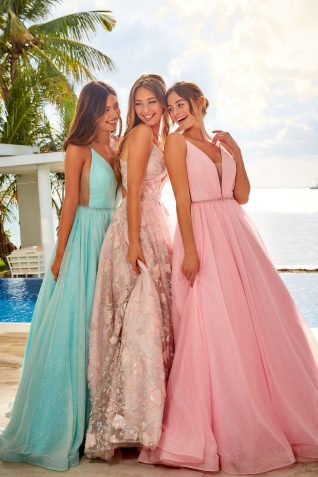 First up…The "7 Categories To Finding the Right Dress for Your Body".
That's right, there is a dress out there for every single body and now you'll have a quick reference guide you can take with you to your Private Appointment at Emma's Bridal.
At Emma's Bridal Boutique, we pride ourselves on fitting everyBODY for every milestone..
So, let's get started:
Sweet & Petite – Tiny?  5'4" or shorter?
If you've got a petite frame, don't worry, you can still wear a long gown.  Gravitate to those a-line ball gowns or a fit n flare design to capture that stunning look you're after.
Asymmetrical gowns will give you that illusion of height, especially when matched with the perfect high heels to complete your prom look.
Tip: Moderate beading and spaghetti straps or strapless designs are all great options to showcase your small frame.
Boxy & Foxy – Maybe you have an athletic physique?
If your proportions are pretty equal across your sporty bod, then you'll want to choose a prom dress that accentuates two of your envious features…your waist and your legs.  Drawing the eye to your little waist will give you a fantastically flattering look, while you show off those legs you've worked so hard to get by choosing something with a few high slits.
Tip: Look for dresses that have some type of belt or embellishment at the waist
Slim & Trim – Slender to the core?
If you have a thin physique – slim arms, legs and torso, it's time to embrace your long and lean while you let your dress create some curves.  You have the perfect frame for a fitted prom dress, so don't be afraid to show off your slim self.
Tip: Look for dresses with belted or empire waists, leg slits and asymmetric necklines.
Curves with Verve – Do you see an hourglass?
If your bust and hips sing a curvy symphony, then you'll want to highlight that upper/lower balance you naturally carry every day.  Shop for prom dresses that are form-fitting on top with a natural waist to give you the most flattering look on prom night.
Tip: Open necklines can do a lot to show off your curves too.
NO Grapple for Apple – Would you say your shape is rounder?
If you have broader shoulders, a bit of an undefined waist and maybe even a bigger bust, it's time to take a bite out of that apple!  Here's your chance to enhance it all.  Put the focus towards your slender legs and away from your waist with an A-line prom dress. And if you're ready to go full tilt, consider a shorter hemline too.
Tip: Full skirts are a great tool to reshape that beautiful figure.
Dare to be Pear – Smaller on top and rounder on the bottom?
If you've got slightly larger hips, a slim waist and a smaller bust, then it's time to prepear for a gorgeous prom gown.  It's all about striking a balance when you're looking for your perfect dress.  Choosing a prom dress with more volume for your upper half will naturally give you a defined waist while slimming down your hips.
Tip: A-line dresses are your best friend.  Plus, prom night might be the best time to embrace a strapless or open neckline.
Busty, NOT Lusty – Larger bust and narrow hips?
If you've got a bustier upper half, get ready to accentuate your hips and draw the eyes up to your beautiful face with a high-low prom dress.  This will detract from an undefined waist and accentuate all of your assets to leave a lasting impression on prom night.
Tip: Look for illusion necklines to keep a modest look while flattering your bust. So, there you have it, your launching pad to the perfect prom dress!  You'll remember your prom forever, so get ready to start celebrating your body by accentuating your best attributes from head to toe.